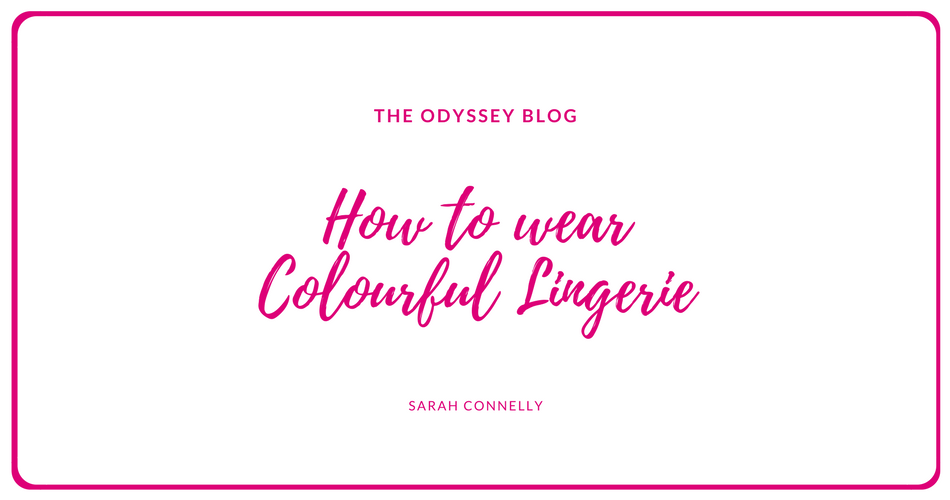 There's a mental block for most women when it comes to wearing colourful lingerie. Brightly coloured bras aren't considered wearable or practical and are more often deemed 'too sexy' to wear every day. But…who says?
With white tops – and particularly when worn in more conservative dress situations (aka work) – a nude bra is the ONLY way to go. But beneath outerwear that's darker coloured, textured, patterned – or anything other than a plain white tee – what's stopping you wearing colourful lingerie that's a little more exciting?
It's so easy to have your black, white and nude bras on constant rotation. Plucking a trusted favourite from your daily uniform closet and putting it on without a second thought.
But step away from the beige for a day and try, say, a beautiful berry shade beneath your navy top.
I'm certainly not suggesting you ditch your basics for something as bold as Lascivious' infamous Kitty set (that's exciting lingerie on a whole other level). I'm talking baby steps.
Take Ms A for example; she was deep in a lingerie rut. Numbed by years of nude bras, a friend recommended she pay me a visit at Odyssey…
"I'm generally into the 'standard' nude or black bras" started Ms A.
After fitting her with one of my trusted favourites – a pretty blush lace, but totally invisible bra, by Stella McCartney I began to push the boat out, ever so gently, and suggested she try something a bit different.
Like most clients when I propose trying something 'a bit different' Ms A's mind went into a tail spin. 'Wearable, I said!' ricocheted from behind the fitting room curtain.
I handed her a classic balcony shape in a considerably brighter shade.
She happened to be wearing another classic herself that day and I urged her to pop her navy & white stripped Breton tee over the pink bra. Ms A ventured into the brighter day-lit shop, and sure enough, not a bit of the bold bra could be seen.
Lingerie is fun; fun doesn't have to mean impractical. (You'll know by the way I say 'fun' whether I am suggesting something provocative.)
It can, as we saw with Ms A, be a bold colour, have an eclectic embroidered finish, decorative straps or a detailed racer back, be a plum shaded plunge or a non-wired navy bralette.
If the bra fits perfectly, there'll be no give away signs of what's going on beneath your clothes, and I promise taking a tiny step out of your beige-zone soon will set you up for a future full of colour and delight.
As Ms A said, "I now love my new bright bra – goodbye boring nude!"
What's stopping you wearing detailed or more colourful lingerie? Or is your collection already a riot of brights?
To comment and share your thoughts join me over on Facebook.
If I inspired you with this blog please share it with someone you know will love it too. You can use the 'Share' button up top. 
To subscribe The Odyssey Edit – my weekly preview email of the latest luxurious lingerie and exclusive in-store events, promotions & sales. All delivered discreetly to your inbox. Just click here.
Save